I was at BBC Radio London full time from about July 1979 until the summer of 1983, I then continued to work there very part-time until the station closed in 1988, to be replaced by GLR and more recently BBC London 94.9.
BBC Radio London started on October 6th 1970, three years before the first London commercial stations, LBC and Capital Radio. To start with it was just on 95.3 MHz FM, or VHF as it was then known, but the medium wave transmitter on 206m (1457kHz) was added just before the commercial stations opened in 1973.
In the early days David Carter presented a daily lunchtime programme, Lunch a la Carter and here is the start of the first edition of the programme.
Initially the studios were in Hanover Square, near Oxford Circus, where the consoles still had rotary faders! But by the time I got involved Radio London was in new studios in Marylebone High Street - a windowless place at the back of the BBC Publications building which had previously been the Radio Times warehouse.
In its early day BBC Radio London was best known as the home of the radio phone-in. While the station didn't invent then, it did lay claim to being the first in the UK to broadcast one daily. These days it is easy to take for granted that ordinary people can take part in a radio programme by phone, then it was very different. On the station's sixth birthday in 1976 David Carter looked at how the genre was progressing at Radio London.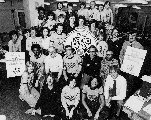 1980 was the 10th birthday of the station which was given a big spread in the Radio Times (Local Radio stations in those days anyway had a whole page each). A special photo of everyone who could be found in the newsroom was taken to use in Radio Times. Looking at it now I can remember most of my colleagues but my hair is terribly 70's student (I'm close to the round logo at about 7 minutes to the hour). To celebrate the anniversary Laurie Meyer put together a tribute to the mistakes, or boobs, of those first ten years.
I joined the station as a sort of music assistant but quite quickly started to produce virtually all of the station's programme trails and soon a range of music programmes.
| | | | |
| --- | --- | --- | --- |
| Colin Maitland | Tony Williams (Reggae Rockers) | Susie Barnes | The radio car at Notting Hill Carnival |
Among the programmes I produced regularly were Stuart Colman's Echoes, Reggae Rockers, Music on the Move (continuous music at afternoon drivetime) and the Maitland Show with Colin Maitland in the afternoons. I was also involved in many of the specials and OBs and, from time to time presented programmes.
For a while I presented a Sunday afternoon easy listening programme, Nice and Easy.
Here are a selection of my Radio London trails.
In 1981 the station relaunched in stereo and with a softer "Radio two and a half" music policy which many of the staff were unconvinced about. The line-up at that time was: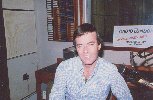 Tony Blackburn in cubicle 1B
6.30am Rush Hour with Susie Barnes and John Waite
9am Morning Star
10am Robbie Vincent Telephone Programme
12.30pm Lunchtime News
12.40pm Tony Fish Total Music Show
2.30pm Tony Blackburn
5.00pm Evening News
5.15pm Music on the Move
6.30pm Various speech programmes
7.00pm Black Londoners
8.00pm Parliamentary Question Time
This schedule (briefly) led to much improved audience figures and prestigious awards.
The final programme, just before the station's 18th birthday, was presented by Mike Sparrow and Susie Barnes.
BBC Radio London's jingles were of variable standard. Here are selections from some of the packages:
There are many more photos of BBC Radio London through the years, taken by Roger Clark, at http://spaces.msn.com/members/CLARKPHOTOS/