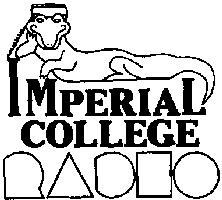 IC Radio took several years to get off the ground. I was involved when the idea first gained momentum in early 1973 (while I was doing a Maths degree) and as I stayed at Imperial College as a postgraduate I was still there to see the station broadcast on medium wave, which started on 2nd December 1978.
IC Radio was the first licensed broadcast student station in an inner city area, being situated on Exhibition Road in London's SW7 - South Kensington, sandwiched between the Victoria and Albert Museum, The Science Museum and the Royal Albert Hall. The local department store was Harrods and the local park was Hyde Park.
Back in 1978 I was the Station Manager and I had the privilege to be first to broadcast on the 999kHz AM transmitter.
Since then I've gone off into professional radio - some of the stations are also on this site - but I look back with a lot of nostalgia to IC Radio when I learnt how to make radio programmes as well as, somehow, getting academic qualifications.
This site has pictures and audio from those early days.
The station is still on the air and thriving with its own web site at http://icradio.com