The early days
IC Radio was conceived at a drink after a Photographic Society model session between myself and Clive Dewey in January 1974. It was very ambitious - all the student stations to date had been at campus universities, where it was much easier to contain the signal. However we were at Imperial College, a very respectable top science institute, and so if anyone could get a license for a built up area we could.
It was the following year before anything that could be regarded as a programme was produced, a promo tape that was broadcast on the IC student television service, STOIC. Bolstered by the success of this we started regular news programme using the PA system in the main college refectory and common room.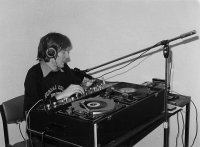 Alan Burton at the disco console
These early programmes were recorded by Nigel Davis on his reel to reel tape machine in his room in Linstead Hall. Soon we borrowed a disco console and put lines it to be able to broadcast live from the room that was to become the main studio, in the basement of the Southside building.
We intended to build the main mixer of our studio ourselves from a Maplin Electronics kit and for months everyone was soldering components onto boards. Sadly this work did not keep pace with building the cabinet, so the first mixer was a real lashup with the boards all over a table and a simple mixing box, but it did allow us to be more ambitious.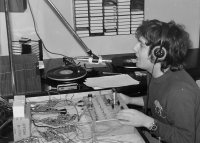 Andy Maxwell and the lashup
The first taped and edited news report was by Alan Burton when he reported on a student who he found chained to a tree in Beit Quad.
Getting a medium wave license was long and tedious and took until 1978. In the meantime we developed a significant amount of programming by closed circuit around the College. In the evening the main outlet was Southside Bar, so broadcasting hours were 6pm - 11.15pm. On Tuesday and Thursday lunchtimes we also broadcast to the Junior Common Room.
We had a lot of fun in these programmes, and learnt a lot about how to make radio programmes in the process.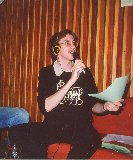 Harvey in the Bar
Soon we learnt how to get out of the studio and do Outside Broadcasts. Generally these were by putting the presenter on a cable microphone in Southside Bar and playing the records and everything else in from the studio. Quite quickly we established a programme from the Bar every Sunday evening.
For the Rag Fete in Princes Gardens we provided the PA and, as someone else was paying, we hired a radio microphone to present from Prince's Gardens which was much more fun. On the evening before the fete we tried the microphone out in a variety of ways live on air from the gardens and Southside Bar.