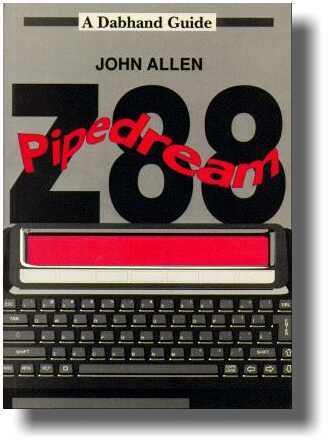 Z88 PipeDream: A Dabhand Guide
... by John Allen is the indispensable guide to this important application. It costs £14.95 from Dabs Press and all good bookshops.
ISBN 1-870336-61-5
PipeDream is the revolutionary integrated business software package that was at the heart of the Cambridge Computer Z88 portable computer's success. It is also available for Acorn Risc OS, MS DOS and BBC micro machines (under the name View Professional). This Dabhand guide is the definitive introduction and reference work.
Practical application is one of the many themes running through the pages and the many varied examples contained in its pages are both informative and useful. No prior knowledge of PipeDream is required.
The many features of this book include:
Word-processing
Using the spreadsheet as a database
Integrating spreadsheets
Headers and Footers
Page setup and printer control
Using the menus
Transferring files to and from PC, Mac, BBC and Risc OS
Third party software