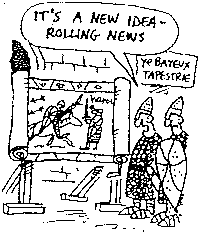 LBC was the first legal commercial radio station in mainland Britain and had a franchise, later called a licence, to broadcast to London from October 1973 until September 1994, when the Radio Authority did not renew the license. It had a chequered and often difficult history, but through it all pioneered commercial speech radio in Britain and at times made significant amounts of money.
I hope that these pages will grow into a large section, however at present I have pages on the final format of the station with separate services on AM and FM - the LBC Newstalk schedule and the London Talkback Radio schedule from 1993 with a RealAudio promotion for each programme and a small number of other clips from programmes around that time. There's also a section on the ill-fated LBC Crown FM.
I started to work at LBC as a freelance from late 1988 until July 1994, when I was on the full time staff. It spanned an interesting era from the days of a single "LBC" station on both frequencies to the loss of the Radio Authority license.
If you have any photos or shortish recordings of LBC that I can include on the site please get in touch.